M1NER's QTH – Whittlesey, UK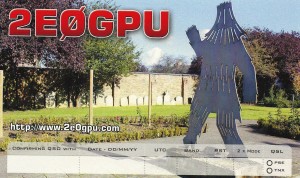 Thank you for visiting the webpage of M1NER, a UK amateur radio station in Whittlesey, Cambridgeshire run by operator Andy Taylor. Maidenhead locator is IO92wn. My previous callsigns were 2E0GPU (Intermediate) and M3YEK (Foundation)
I am a committee member of the Peterborough & District ARC
Recent Projects
Recent projects include setting up a LoRa based APRS iGate from my home – which is now offline as there was only myself using it.
Implementation of a packet radio node from my home QTH. The node MB7NER is now live!
The Straw Bear
If you received a QSL card from me, you may be wondering what that silver statue is! It's a straw bear.
In Whittlesea, from when no one quite knows, it was the custom on the Tuesday following Plough Monday (the 1st Monday after Twelfth Night) to dress one of the confraternity of the plough in straw and call him a 'Straw Bear'. A newspaper of 1882 reports that "… he was then taken around the town to entertain by his frantic and clumsy gestures the good folk who had on the previous day subscribed to the rustics, a spread of beer, tobacco and beef".
For more information about the straw bear, visit The Whittlesea Straw Bear Festival
Whittlesey is a town in the north-west of the Isle, 6½ miles east of Peterborough and 11 miles west of March. Its 'island' rises to 26ft above sea level, and is about 3 miles long and ½ mile broad.
The town is situated at the intersection of the road from Peterborough to March with that from Ramsey to Thorney and Crowland. The latter (B1040) is planted with trees on the Thorney side of the town, a pleasant but unusual feature in this part of the country; from it fine views of Peterborough Cathedral may be obtained.
Whittlesey is situated just off the limestone belt of England, and has an extensive display of good domestic architecture. The most important buildings are the manor house and the Butter Cross.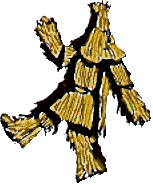 The right to hold a market and three annual fairs was granted in 1715 to George Downes, steward to Richard Price and Nathaniel Webb, the lessees of the manors. The market had been discontinued for about twenty years in 1808, but the June fair, limited to one day only, was still kept up. Horses were the chief item of trade at this fair. Shortly before 1851 the market was revived 'and bids fair to become an excellent corn market', but in 1868 it was said that only 'the tradition of a market lingers about the place on Friday afternoons'. Friday is still market day in Whittlesey, but the town is too close to Peterborough for the market to be of much importance.